'Can I Get Another Bottle of Whine'
has had me torn. Finish The Sentence Friday (or FTSF) has proved great fun and excellent reading. In usual fashion, then, I am going to try to have my cake and eat it by creating a beautiful hybrid with the tried, tested and much loved '7 Quick Takes' in a glorious crossover. So without further ado;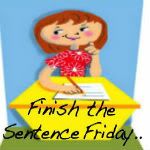 This week's sentence: When I was younger I tried...mountaineering across the front of a wardrobe and could easily have been squished when it fell forwards on top of me. I was saved by the bedpost of my sister's bed, which held it up (albeit at a precarious angle) allowing me to shimmy out from underneath before it fell any further. I got in trouble.
I seemed to think I was some kind of superhero as a kid, because I think at one point, my details were permanently etched into the A&E computer - each time we went in the receptionists had this 'oh you again' look about them. I once thought it would be really cool to prove the amazing awesomeness of my new trainers by leaping delicately onto the pointy end of a nail I found embedded in some wood, then jump gracefully off again. I leaped with all the delicacy I could manage, and was fortunate in that when I landed, the nail missed the bones in my foot as it perforated straight through the sole of my awesome new trainer and into my young, ignorant flesh. That time I had to get a shot, too.
rather large tantrum on Saturday
, I rounded the week off by having another one on Wednesday night. Again, Husby did something relatively small and I flew off the handle and hit the ceiling as I passed into outer orbit. We managed to make up again, but it was stressful for both of us for a while.
I think we learn our patterns of behaviour in these kinds of situations from our parents. My Mum used to bang drawers and cupboards and did a wonderful line in slamming doors when she was particularly riled (my favourite time was when she slammed the front door, decided that this hadn't been sufficient in conveying the depth of her upset and so opened it so she could slam it again). I have a feeling that Husby's Dad tends to stay quite quiet and unobtrusive and then speak up when he can't stand it any more. We both seemed to conform to type.
I read on a very lovely blog that the author and her husband try to maintain physical contact whilst arguing. She said that the touch of the other person not only helps to regulate the brain with the production of oxytocin, but that the contact reminds them both that the other person is someone they love very dearly and ultimately do not want to hurt. My Husby suggested that from hereon out we argue whilst hugging. I feel this could result in some bruised ribs, but you never know – it could work. The problem is I like being angry (when I'm in the middle of it, anyway) and I fairly well enjoy being vicious and aggressive and slammy and crashety. Maybe if I gave these things up for love, then our arguments would be resolved quicker.
Having troubleshot (troubleshooted?) apparently the DNS server is not responding. I don't know what a one of them is, but I really hope it can be made to respond.
Later edit: The internet's back - can you tell?
Now with added recipe!
Slightly-Mediterranean-y-pastry-bake-thing
You will need
1 pre-rolled sheet of puff pastry
Basil (fresh would be good, but the shop was sold out so I got this weird basil-in-a-tube thing, which worked rather well in the end)
Tomato puree
15-20 Cherry tomatoes
2 balls of mozzarella
1 tsp dried mixed herbs
1 handful grated cheddar
Unroll your pastry and grease a baking tray. Plop the pastry into the tray and fold the edges back on themselves if they don't fit. If you have the luxury of a massive baking tray, you'll want to fold the edges back anyway or your cheese will run away later. Spread 2tblsp tomato puree around the pastry base, using the back of a spoon. Add basil (fresh or tubed) and spread that around, too. Quarter the cherry tomatoes and place them carefully in a pleasing pattern on the saucy pastry. Slice your mozzarella balls (thick, chunky slices, please) and layer them on top of the tomatoes. Add more basil if it's fresh. Scatter your grated cheddar over the top then sprinkle with mixed herbs. Place into a pre-heated oven (I cook everything on 200, so do what works for you) and leave beyond the point where it's all melted into a big, runny cheese puddle and you panic you'll need a spoon to eat it, to the point where the cheese begins to go a little crispy on top and the pastry is very golden. Serve with caution (because it will be runny) and a side salad. And potato wedges, just because. Oh, and coleslaw.
For more Quick Takes, visit Conversion Diary!