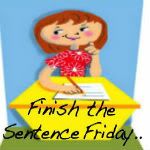 The best part of my day is...
Well, crap.
I've spent 20 minutes sat here trying to think of anything which will genuinely be a better response than 'Connecting with my friends, online'
And I got nothing.
Which sucks to epic proportions.
Because marriage to a person who mostly looks and behaves like Depression, is really really hard.
Because someone who is overwhelmed by Depression can't understand why that's hard for anyone else, and that's really, really hard.
Because being part of a family where my crises are small in comparison, is really really hard.
Because I still have two, aching, baby-shaped holes ripped into my heart, and that's really, really hard.
Because a great new job is a fantastic distraction, but it's not really nurturing, or a 'best part' of the day.
Because running won't cure cancer.
Because writing won't fix things.
And because escape into the shiny, beautiful, immediate, constant-input, distracting, absorbing, affirming world of online friendship is so very needed.
Dear My-Life,
WTactualF?
Where's the equilibrium? Or am I not one of those people who gets the good to balance the crap? Or do I have it hiding somewhere and just not see it because I'm so caught up in the crap? Or is the idea of a life with great tracts where happiness, healthiness, wholeness and peace, just a myth? Does anyone get that? Am I just bitching because of such a massively unfulfilled expectation (yaknow, that there might be a few more of the Good Times)?
Not much love at the moment,
Lizzi
was
free, back there a while - for Pregnancy and Infant Loss Remembrance Day (October 15th)
It's now available IN HARD COPY (for the staunchly non-Kindle among us) on
Amazon.com
- meaning that it can now be used properly as a resource in libraries, clinics, clubs, therapist's offices and for giving to women who need it.
(I'm trying to find out when the print version is available in the UK - watch this space)
It's the final day when you can
add your sponsorship to the pot
to see how far beyond fundraising target I can get...
Yes...you heard me! YOU BEAT IT! Your donations beat what seemed like an impossibly large target, and thank you SO much.
So now I know I can run so far, I KNOW the race will be a cinch. And the money will be secured for Cancer Research UK, and my tiny, tiny part in helping to kick cancer's ass will have been effective.
And I'll have to start planning what next :)
utilised my powers to 'pome'
to not say a thing which I didn't want to leave unsaid, undirected, to someone I don't want to tell it to, but do. And, by the way, you should totally check out the rest of the place, too.
they all join in
and it's utterly, transfixingly stunning.
...by introducing them to the word 'Clunge'.
Britain 1 - 0 USA
Come back tomorrow for Ten Things of Thankful, many pictures of my GO-GO-GLOW Race for Life, and an exciting FINAL TOTAL of how much you raised between you.
Also, other thankful things - you might like to contribute some of yours, because I have no doubt that they're there, and hugely wonderful :)
For more Quick Takes, visit
Conversion Diary!